Website Mutoid
16 Jan 2022
Following our temporary closure for a scheduled upgrade and rebuild, we're back! The site server and database have both been upgraded, and we are now running a much newer version of the PHP Fusion CMS software. Users on mobile devices should find the site much more friendly now. We also now have a security certificate - note the change from http:// to https://.
We are aware of a couple of minor issues (see Website and Technical forum), but we hope that after a couple of rocky days of endless problems and reinstalls the site is stable and is running smoothly. Obviously it has not yet been tested under load, so if there are a few glitches in the next week or so, bear with us, and report back to us as necessary. We're a little short on content at the moment, but our Content Managers are working hard to fix that. We thought you'd prefer a lean version of the site than no site at all.
If you encounter any problems, please first check
HERE
to see if we know about them, and if necessary then report them
HERE
. We
think
we have fixed it, but if you do encounter it, we have a work around for the "broken links in site-generated emails" problem
HERE
. Thanks.
Please bear in mind that your old login details will not work on the new site and
you will need to re-register
and wait for an admin to activate your account
As a thank you for your patience, we have a little gift for our registered members, old and new - if you are logged-in, go
HERE
to investigate.
Welcome back!
- Website Mutoid
Travisina
14 Jan 2022
970 Reads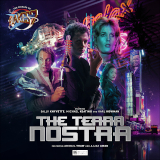 OUT NOW! The Terra Nostra
To mark the 43rd anniversary of the episode
Shadow
, Big Finish have today released the latest audio boxset in their Worlds of Blake's 7 range. This box set stars Sally Knyvette as Jenna and Michael Keating as Vila, with guest stars Karl Howman (Bek in the Series 2 episode
Shadow
) and Abigail Thaw, in stories by James Kettle, Robert Valentine and Peter Anghelides. These stories are set during B7 Series 3.
Continue Reading